EN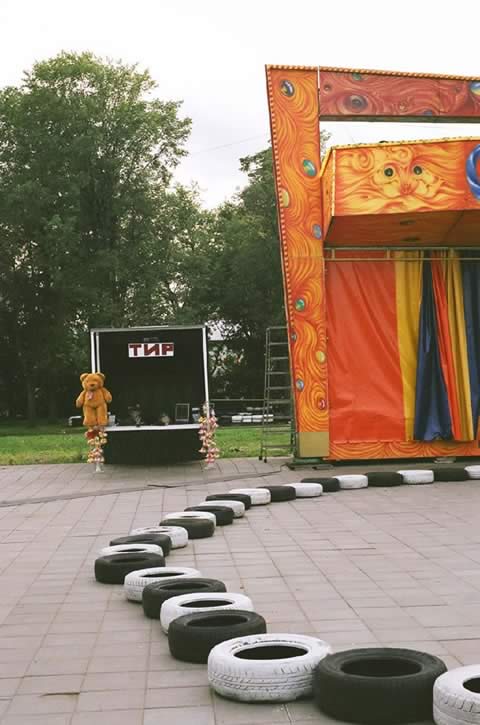 - But is it really true that there are cockroaches at the institute?
- Yes.
And that in August they even turn off the hot water?
- Yes, for a month in summer they have to take care of the treatment plants so...
A neighbor who often travels to Russia lent me her electric resistor and then off I went to Moscow.
Coming out of the metro the thing that immediately struck me was the sense of insecurity and improvisation: bundles of knotted cables hanging down and stretching from one side of the street to the other. Huge advertisements for shooting ranges, weapons in clear view for all to see. Men in uniforms of every kind and color. Glittering women coming out of the metro as if stepping from out of a beauty salon. Elderly couples walking hand in hand. Immense street markets with products from all over the former Soviet Union. All-night supermarkets where I'd wander through the deserted aisles on the search for those exquisite frozen-cream-and-marmalade-filled candy bars known as syrocki. Construction sites everywhere, just like Berlin in the 1990s.
I lived on the 12th floor of the Institute of Russian Languages and didn't see any cockroaches, not until my roommates managed to attract them by leaving out their leftovers. The makeshift water-heater saved me: I could make water for tea and wash my hair. But it rained for days on end and was cold. As a result I got sick and had to leave sooner than I had planned.
The day I left the sun was so strong it seemed to split the stones and in the taxi the voice of Vladimir Vysotsky came growling out of the radio at full volume. There was a lump in my throat because, in spite of everything, I knew I was going to miss Moscow. It's August of 2006.
DE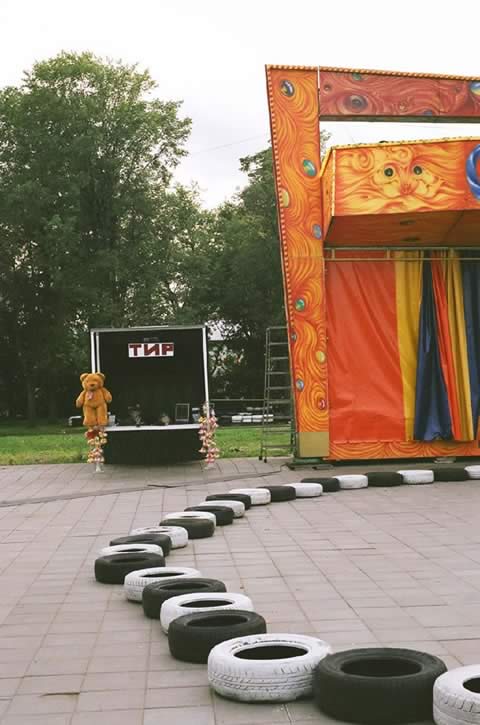 - Gibt es im Institut wirklich Kakerlaken?
- Ja. Und im August wird leider auch das warme Wasser abgestellt. Das passiert jeden Sommer, sie machen "Remont".
Eine Russlandkennerin gibt mir also ihre Heizspirale mit, um das Wasser aufzuheizen, und ab nach Moskau!
Das Auffälligste auf den ersten Blick, wenn ich dort ankomme, ist eine gewisse Vorläufigkeit und Improvisation: Überall Kabel, die sich in allen möglichen Knoten miteinander verknüpfen. Werbungen von Schießvereinen mit riesigen Waffendarstellungen. Männer in vielen unterschiedlichen Uniformen. Wunderschöne Frauen, die aus der U-Bahn austauchen, als kämen sie aus einem Schönheitssalon. Ältere Paare, die sich unterwegs an der Hand halten. Riesige Märkte, wo Leute aus der ganzen ehemaligen Sowjetunion ihre Ware ausstellen. Supermärkte, die die ganze Nacht auf haben, wo ich meine köstlichen Syrotschkis (eingefrorene Milchspeisen mit Schokolade und Marmelade) besorge. Überall Baustellen, wie im Berlin der 90er.
Ich wohne in der 12. Etage des Russisch-Instituts und sehe keine Kakerlaken, bis sie meine Zimmernachbarinnen mit ihren Essensresten dann doch locken. Die Heizspirale rettet mich und besorgt mir Warmwasser für Tees und Haarewaschen, denn es regnet in Strömen und es ist ganz kühl, aber ich werde doch krank.
Als ich vorzeitig abreise knallt die Sonne, aus dem Radio des Taxifahrers ertönt mit voller Lautstärke Vysockij und ich habe einen Knoten im Hals, weil ich das alles doch vermissen werde. Es war im August 2006.
IT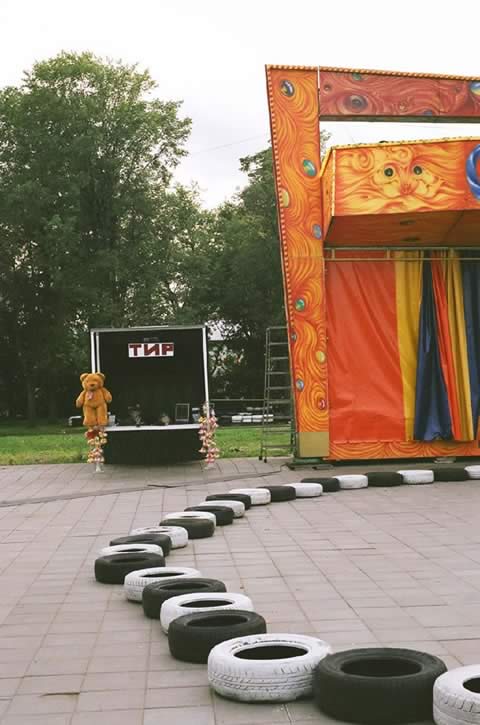 - Ma è vero che all'Istituto ci sono gli scarafaggi?
- Sì. E in agosto spengono anche l'acqua calda. D'estate c'è la manutenzione degli impianti di riscaldamento e tolgono l'acqua calda per un mese.
Una vicina che viaggia spesso in Russia mi presta la sua resistenza elettrica per scaldare l'acqua e parto per Mosca.
La cosa che mi colpisce al primo sguardo, appena emersa dalla metropolitana è un senso di precarietà  e improvvisazione: fasci di cavi annodati, penzolanti, tesi da una parte all'altra della strada. Enormi pubblicità  di luoghi di tiro, con armi in bella vista. Uomini in uniformi di ogni tipo e colore. Donne luminose, che emergono dalla metro come se uscissero da un salone di bellezza. Coppie anziane che si tengono per mano. Mercati enormi con prodotti di tutta l'ex Unione Sovietica. Supermercati aperti tutta la notte, dove mi aggiro per i corridoi deserti alla ricerca degli squisiti syrocki, barrette gelate con panna e marmellata. Cantieri ovunque, come nella Berlino degli anni '90.
Abito al 12° piano dell'Istituto di lingua russa e non vedo scarafaggi, finché non li attirano le vicine di stanza, con i loro avanzi di cibo. Lo scalda-acqua mi salva: posso prepararmi il tè e lavarmi i capelli. Ma piove a dirotto per diversi giorni e fa freddo, quindi mi ammalo e anticipo la partenza.
Quando me ne vado c'è un sole che spacca le pietre e dalla radio del taxi risuona a tutto volume la voce di Vladimir Vysotsky. Ho un nodo alla gola perché, nonostante tutto, Mosca mi mancherà . È l'agosto del 2006.