EN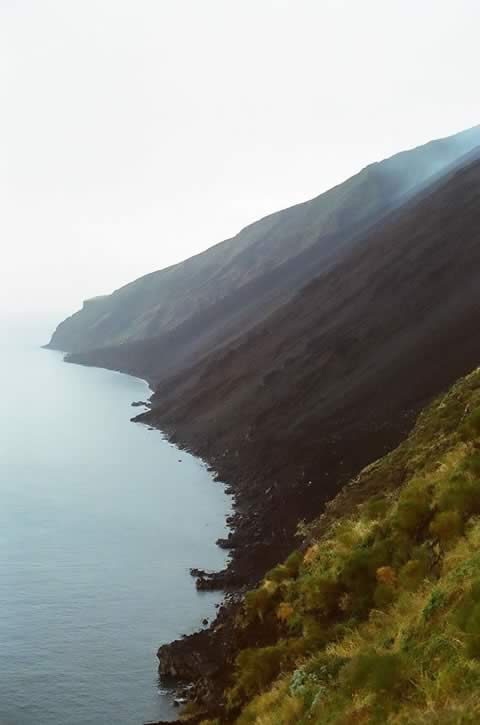 Ginostra is an absolute place, a place where time has once again become the essential one of nature. Its rhythms are dictated by the sun, which will either allow you to work outside in the garden or force you to retire to the windowless rooms along the terrace. When it rains the orders of the day become refilling the wells and buckets and making sure that the roof's not leaking. For those who have a house with a bit of a yard, time on Ginostra is always taken up by some job or other and you can only take a break towards evening when the sun becomes less blistering and you can go down to the sea.
Ginostra touches me deeply, so much so that it often appears in my dreams. In them I'm always taking long trips by plane and boat just to reach the island. Sometimes I dream of leaving the island, too, and I always experience this with a sense of detachment: as I get onto the small wooden boat I see the outlines of people waving from the dock; the moment is mysterious and solemn; then the boat sets off into the darkness, within the complete silence of the person looking down from above.
Coming in summer it seems like a dream, but living there all year round is by no means easy: on Ginostra the dynamics of the «external» world are reproduced in microcosm. All the same, it leaves no one indifferent, not even those who only visit for a couple of hours.
My mother often says that living on Ginostra is like being on a boat: tensions are amplified and things that once seemed fixed become unstable. And what's more, you can't escape: whenever you try, you come face to face with yourself again, alone, on a rock out in front of the sea. Then everything inside you explodes, in complete symbiosis with the eruptions of the volcano.
DE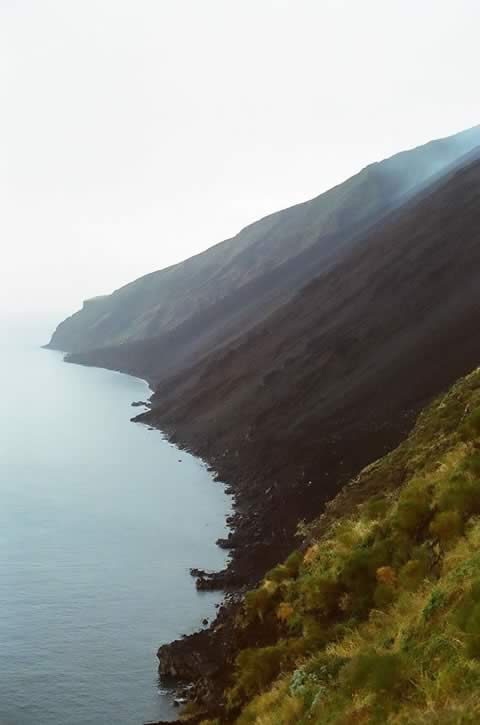 Ginostra ist ein Ort des Absoluten, wo die Zeit vom natürlichen Rhythmus der Natur bestimmt wird. Den Tagesablauf diktiert die Sonne: sie erlaubt es in manchen Stunden im Freien zu arbeiten oder zwingt, sich in die schattigen und fensterlosen Zimmer, die alle auf die Terrasse hinausblicken, zu flüchten. Wenn es regnet, ist es dringend notwendig die Zisterne oder so viele Gefäße wie möglich zu füllen, oder auch zu kontrollieren, ob das alte Dach noch wasserundurchlässig ist. Wer in Ginostra ein Haus und ein bisschen Garten besitzt verbringt die meiste Zeit mit irgendwelchen Arbeiten und ruht sich erst gegen Abend aus, wenn er ans Meer geht.
Ginostra dringt oft bis in meine Traumwelt ein. Ich lege lange Reisen hinter mich, mit Flugzeug und Boot. Oder ich träume von der Abfahrt, die ich immer als eine endgültige Trennung erlebe: ich steige auf das Boot, das einst die Passagiere zur Fähre Richtung Neapel transportierte; diejenigen, die uns zum Hafen begleiten sind dunkle Gestalten, die uns von oben grüßen und unsere Abfahrt still abwarten.
Wer im Sommer nach Ginostra kommt, glaubt auf einer Trauminsel zu leben, aber es nicht leicht, das ganze Jahr hier zu sein. Die dreißig Einwohner von Ginostra geben in ihrem Mikrokosmos die Dynamik wieder, die es in der Außenwelt gibt.
Dieser Ort lässt einen aber nie gleichgültig, auch wenn man nur für wenige Stunden hier landet.
Meine Mutter sagt immer, dass man hier wie auf einem Boot lebt: Spannungen dehnen sich aus, die gewöhnlichen Balancen werden prekär. Und es gibt keine Ausflucht: wenn du sie suchst, findest du dich alleine, auf einem Felsen angesichts des Meeres wieder. Und das, was in dir ist, explodiert, in Symbiose mit den Explosionen des Vulkans.
IT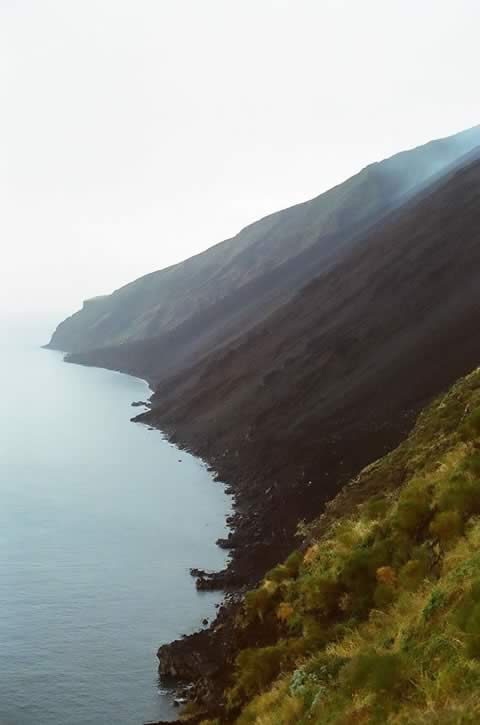 Ginostra è un luogo assoluto, dove il tempo torna a essere quello essenziale della natura. I ritmi sono scanditi dal sole, che consente di stare all'aperto a lavorare in giardino o costringe a ripararsi nelle stanze affacciate sulle terrazze, prive di finestre. Se piove, è l'urgenza di riempire cisterne e bacinelle e di controllare che il tetto non perda acqua a determinare le attività  della giornata. Per chi ha una casa con un po' di terra, il tempo di Ginostra è sempre occupato da qualche lavoro e ci si riposa solo andando al mare verso sera, quando il sole è meno rovente.
Ginostra mi colpisce tanto nel profondo da entrare spesso nei miei sogni. Compio viaggi lunghissimi in aereo e zattera per raggiungere l'isola. Sogno anche la partenza da lì, che vivo sempre come un distacco definitivo: salgo sulla barca del rollo e vedo le sagome di chi ci saluta dalla banchina; il momento è isterioso e solenne, la barca si allontana nel buio, nel completo silenzio di chi ci guarda dall'alto.
A chi viene d'estate sembra un sogno, ma viverci tutto l'anno non è facile: a Ginostra si riproducono in un microcosmo le dinamiche del mondo «esterno». Comunque, è un luogo che non lascia mai indifferenti, anche solo chi lo visita per poche ore.
Mia madre dice che vivere a Ginostra è come stare in barca: le tensioni si amplificano, gli equilibri stabiliti diventano precari. E non puoi fuggire: quando tenti di farlo ti ritrovi, solo con te stesso, su uno scoglio davanti al mare. E tutto quello che hai dentro esplode, in simbiosi con le esplosioni del vulcano.