EN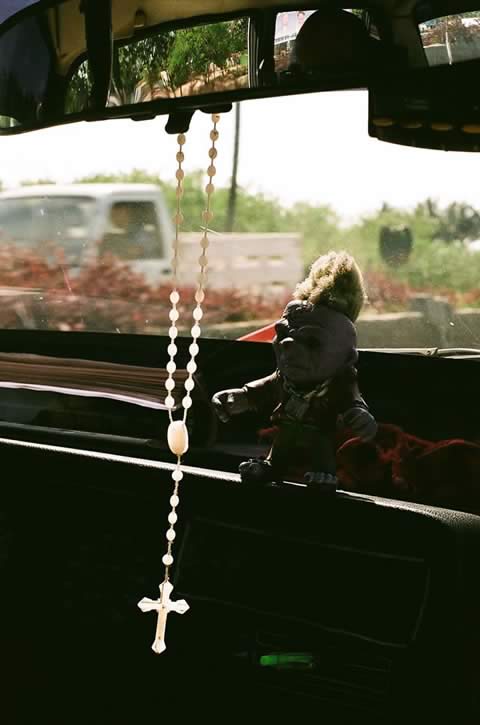 I have numerous photographic memories of Cuba, and in particular of Havana: the two male nurses in their snow-white uniforms beneath an umbrella on one of the beaches of Playas del Este, speaking a bit of Russian. They worked at a beach resort that at that time was hosting young people from Chernobyl. Or Lolly, voice raw from countless cigarettes, the woman we stayed with in an enormous, stately apartment — a balcony on every side — on the top floor of a building in La Habana, all the windows covered in tape in order to protect them from blasts of wind.
The women walking proudly down the street, heads covered in curlers, which were nothing other than toilet tissue rolls. American automobiles from the 1950s, three people up front, blasting reggaeton at all hours of the day and night. The run-down buildings with their auras of past splendor, the black flags in front of the former American Embassy, the huge billboards covered in political slogans you'd see along the roads, so theatrical as to seem unreal.
Beaches as far as the eye could see, at that time still unspoiled by crowds of tourists. Crazy dances in the Cuevas. And music everywhere.
But extreme poverty and desperaton as well: the woman whose son had been a political prisoner for years handing us slips of paper asking for help that were written in French. The supermarkets open only to foreigners. Sex tourism. The jineteros and their timid approaches, afraid of being seen by the police. The stories of relatives escaping to Florida in inflatable rafts, taking such incredible risks in the hopes of finding a better life.
DE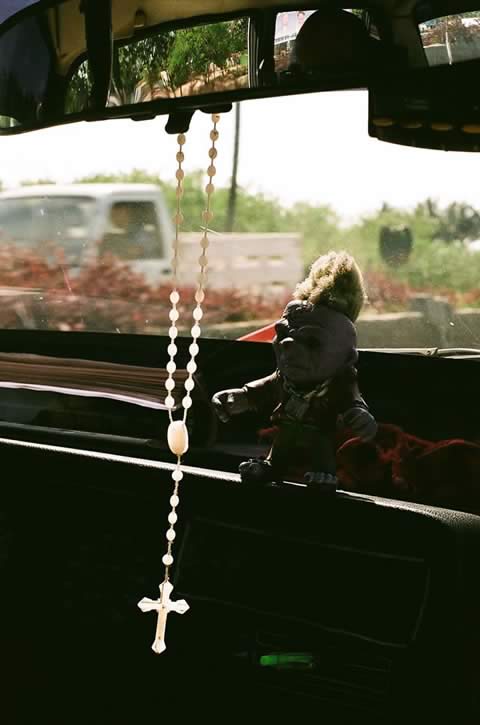 Von Cuba, und besonder von La Habana, habe ich viele fotografischen Erinnerungen: Die zwei Krankenpfleger, die in schneeweißen Uniformen unter einem Sonnenschirm an einer der Playas del Este saßen. Sie sprachen mit den ukrainischen Jugendlichen aus Tschernobyl sogar ein bisschen Russisch. Unsere Gastgeberin Lolly, mit ihrer extrem rauen Stimme von den vielen Zigaretten, ihre riesige Wohnung in Havanna mit den vielen Terrassen: alle Fenster waren mit Klebestreifen beklebt, um sie vor den Orkanen zu schützen.
Andere Bilder, die ich noch im Kopf habe: Frauen mit Lockenwicklern - aus dem Karton der Klopapierrollen - auf den Straßen von Havanna. Amerikanische Autos aus den 50ern mit drei Sitzen vorne und ultrastarker Reggaeton-Musik - man sagt, dass die Kubaner die besten Mechaniker der Welt seien, da sie immer noch mit diesen Autos herumfahren.
Heruntergekommene Häuser, die von einer grandiosen Vergangenheit zeugten. Schwarze Fahnen vor der amerikanischen Botschaft. Riesige Schilder am Straßenrand mit politischen Slogans, die fast unwirklich erschienen. Weite Strände, die von touristischen Investitionen noch unberührt waren. Wilde Tänze in den Cuevas. Und Musik und Musiker überall.
Aber auch extreme Armut und Verzweiflung: eine Frau, die uns in Havana von ihrem gefangenen Sohn erzählte und uns auf Französisch geschriebene Zettelchen in die Hand drückte. Supermärkte nur für Ausländer. Der Sextourismus. Die Jineteros, deren gelegentliche Annäherungsversuche schüchtern waren, da sie sich vor Polizeikontrollen fürchteten. Erzählungen über Verwandte, die auf einem Schlauchboot nach Florida geflohen waren, um ein besseres Leben zu suchen.
IT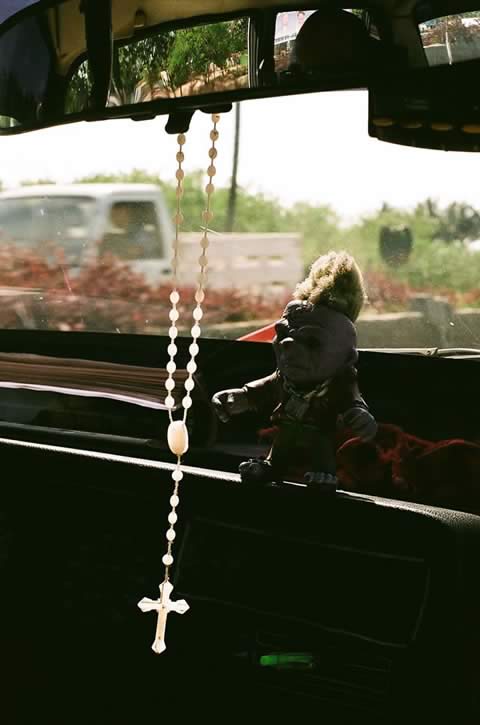 Di Cuba e in particolare de L'Avana ho tanti ricordi fotografici: i due infermieri in divisa candida, seduti sotto un ombrellone su una delle Playas del Este, che parlavano un po' di russo. Lavoravano in uno stabilimento balneare che ospitava ragazzi di Chernobyl.
Lolly, la voce rochissima per le tante sigarette fumate, che ci ospità all'ultimo piano di un palazzo a L'Avana, in un enorme appartamento signorile, con terrazze su ogni lato. Tutti i vetri delle finestre erano coperti da strisce di scotch per salvarli dalle trombe d'aria.
Donne con la testa coperta da bigodini che altro non erano che l'interno di cartone dei rotoli della carta igienica.
Macchine americane anni '50 con tre passeggeri davanti e musica reggaeton a tutto volume, a qualsiasi ora del giorno e della notte - si dice che i cubani siano i migliori meccanici del mondo, perché continuano a far funzionare quelle macchine.
Palazzi fatiscenti che rievocavano splendori passati.
Bandiere nere issate di fronte all'ambasciata americana. Enormi cartelli con slogan politici lungo la strada, talmente plateali da sembrare irreali. Spiagge a perdita d'occhio, ancora incontaminate da scempi turistici. Balli scatenati nelle Cuevas. E musica ovunque.
Ma anche estrema povertà  e disperazione: la donna con il figlio prigioniero politico da anni, che ci consegna tanti bigliettini scritti in francese, chiedendoci aiuto. I supermercati solo per stranieri. Il turismo sessuale. Gli jineteros che tentavano timidi approcci, perché temevano di essere visti dalla polizia. I racconti su parenti scappati in Florida in gommone, che avevano affrontato un rischio così grande per cercare una vita più libera.